The Alma & Bee Experience 
Whether you want a quiet reprieve and quickie service or you're in the market for a social, festive occasion, we will do our best to tailor your mani-pedi to suit you!  So that all our guests enjoy their experience, we kindly ask that you refrain from talking on cell phones. 
We absolutely love our furry friends, but for sanitation reasons they are not allowed in our treatment areas. 
Our implements and pedicure bowls are thoroughly sanitized according to CA State Board Regulations.
A portion of our profits support a variety of environmental and animal rescue causes which means that you can enjoy your experience, leave with beautiful, healthy nails, and know that you're supporting a meaningful cause. 
Natural, Healthy and Safer Beauty! Our mission is to take the toxins out of the experience from the items available in the boutique, to the technician/guest interaction. All products in the boutique and in our nail treatments are environmentally friendly and cruelty-free. All the polishes used at Alma & Bee are high quality and free of the major toxins often found in nail polish listed below.  
 
NO Formaldehyde 
Classified as a known carcinogen, formaldehyde is often used as a preservative, nail hardener and strengthener in conventional polishes. 
NO Toluene 
Included in some polishes as a solvent to smooth application, is has been linked to impaired human reproduction and development, impaired breathing, being harmful to the nervous system and nausea. 
NO Dibutyl Phthalate (DBT) 
Shown to affect the reproductive system and linked to cancer, DBP has been 
used as plasticizer and solvent to increase wear. 
NO Formaldehyde Resin 
A derivative of formaldehyde, formaldehyde resin is often used as a hardener and in large doses can be a skin allergen. 
NO Camphor  Added to some polishes for high-shine, camphor can cause allergic reactions in large doses, can cause irritation, dizziness, nausea, and headaches. 
NO Triphenyl Phosphate (TPHP) 
Also known as TPP, research suggests it causes changes in hormone 
regulation, metabolism, and reproductive systems. it has been used in polish as a plasticizer which makes the polish flexible yet durable. 
NO Xylene 
Used by some brands to help polish from getting gloppy, xylene is also a known allergen and a possible carcinogen.
NO Ethyl Tosylamide/Epoxy Resin 
This ingredient has antibiotic properties which raises concern over antibiotic resistance, it can be used as a plasticizer to help polishes dry faster. Can cause mild or severe allergic reactions. 
NO Parabens 
Used as preservatives, studies suggest these chemicals can disrupt hormones, harm fertility affect birth outcomes, may cause skin irritation, and increase risk of cancer.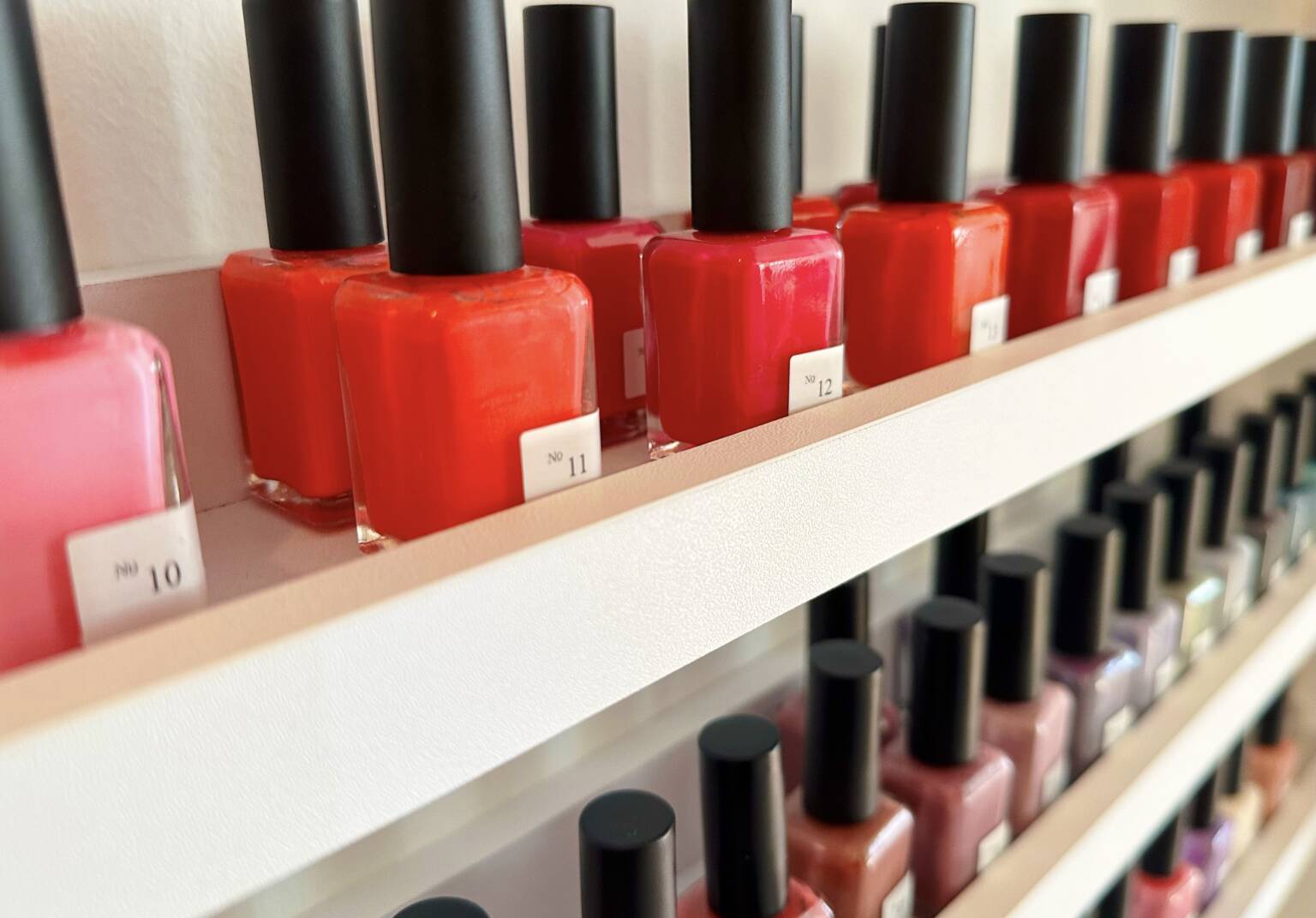 ABOUT ALMA & BEE
Alma & Bee is an all-natural, non-toxic, mani-pedi shop and boutique in downtown Half Moon Bay.