About 
Alma & Bee is an all-natural, non-toxic, mani-pedi shop and boutique in downtown Half Moon Bay. Alma and Bee elevates the mani-pedi experience by providing non-toxic, high quality mani-pedis in an ultra-clean and aesthetically appealing setting. You are invited to escape to the coast, enjoy a glass of bubbly while soaking your toes in a heavenly herbal foot bath and leave with gorgeous nails! The boutique features local, and artisan crafted items including unique jewelry and handbags. All beauty products are natural and cruelty free.
Our Story
Founder Debbie Canadas found herself making the trip to San Francisco whenever a special occasion called for a top quality mani-pedi. She wanted to bring these experiences to her hometown of Half Moon Bay, so when the opportunity arose, she set out to create her vision of the perfect mani-pedi shop that locals and visitors alike could enjoy. Her goal was to create a clean, fume-free, artistically curated plant filled space where the products would be natural and eco-friendly. The mani-pedis would be luxurious and detailed oriented at approachable prices. Guests would be welcomed by friendly staff and relax with a cup of organic tea or glass of bubbly. 
Debbie's belief is that beauty and pampering shouldn't come at the expense of the planet, animal welfare, your health or the health and safety of nail technicians. Her passion for everything natural comes from her mother Karla, who was a pioneer of good nutrition and taught her that all things should be healthy and natural: from the food we eat to the household cleaners and beauty products we use. 
Alma and Bee is a place that celebrates family, friends, and heritage. The shop was the former home of Debbie's husband Tony's Great Aunt Diva, purchased in the 1920s and where his Aunt Loretta was raised. Debbie and Tony made sure to honor his aunt's heritage when helping to restore the home. Many vintage features remain and a variety of original, family photos can be found in the shop.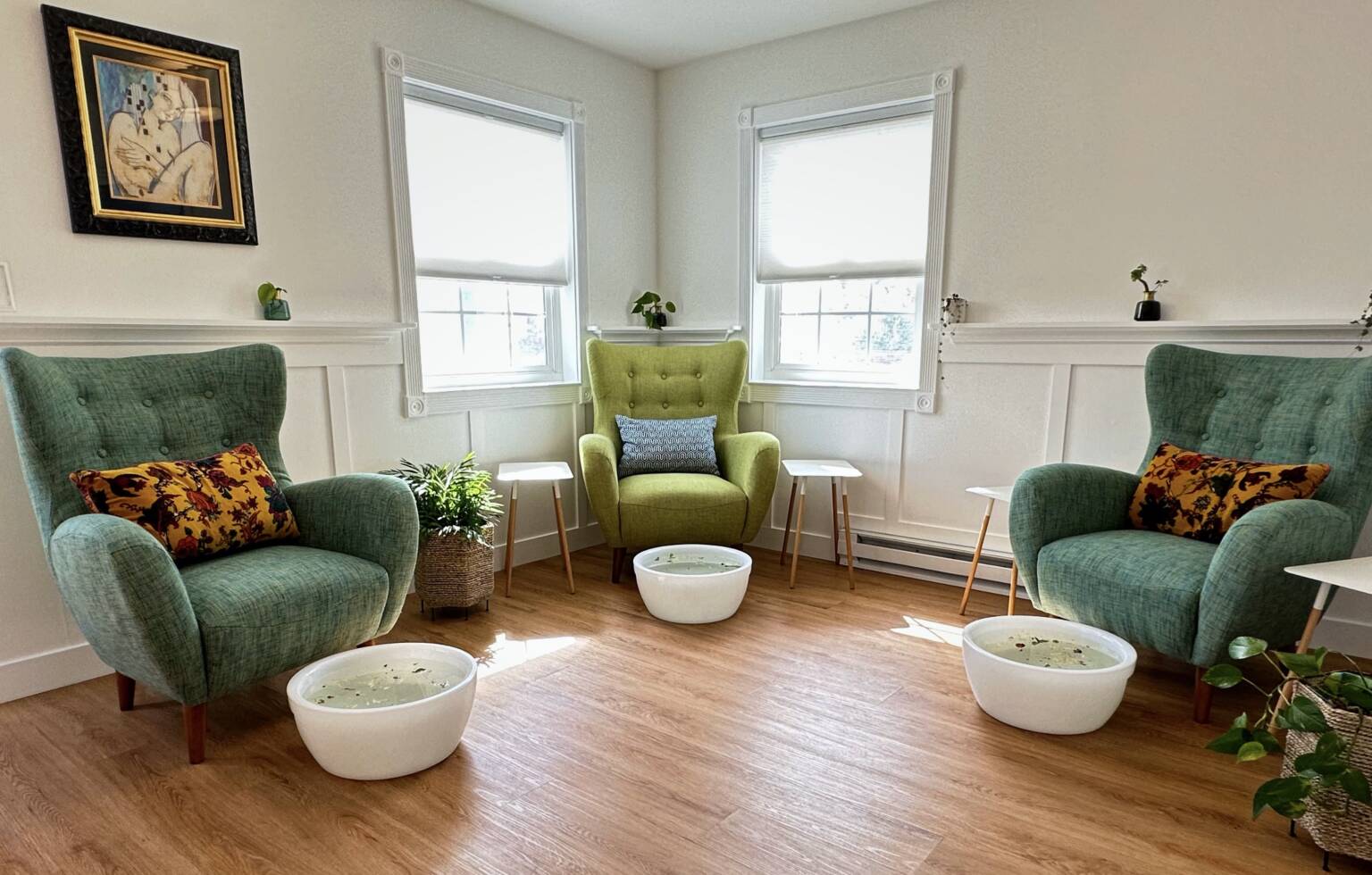 The Name
Debbie and her late mother in-law Daretha often talked about opening a mani-pedi shop on the coast. Daretha was an inspiring and career-minded woman who liked new ventures. She was perennially busy, but one of her few indulgences was a relaxing manicure. It seemed that no matter how busy she was, her polished nails were a constant accessory! Debbie pays homage to her late mother- in law in the name of her shop. Though she went by Daretha, her birth-given name was Alma and means soul in many languages. 
Beee is Debbie's childhood nickname. In the 1st grade Debbie and her best friend Rachel exchanged nicknames: Debbie became Beee and Rachel became Cholll. To this day they refer to each other by their nicknames. Coincidentally, the meaning of Debbie is 'bee' and fittingly and in keeping with the name, guests will find many natural, honey-bee products in the shop and used in the treatments. Bees are a critical part of our eco-system and honey is known to be an effective moisturizer and has many health benefits including healing, anti-inflammatory, and anti-bacterial properties. 
The Alma & Bee Experience 
Whether you want a quiet reprieve and quickie service or you're in the market for a social, festive occasion, we will do our best to tailor your mani-pedi to suit you!